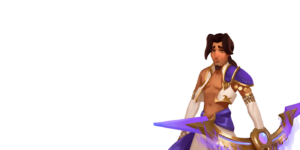 3D CHARACTER ANIMATOR
Freelance (2-3 Months)
We are looking for a 3D Character Animator (Freelance Contract 2-3 Months) to join our team.
01
MAIN RESPONSIBILITIES
How To Play
Work with in-house artists to set the style of animation for the game.
Work with artists and devs to create beautiful and satisfying character animations that work with the limitations set by the game and platform.
Be able to communicate needs to a rigger in order to get the best out of the rig and animations.
02
MVP SKILLS
Endgame
Excellent communication skills and appreciation of an iterative approach with a fast feedback loop.
Experience working as a character artist on multiple games.
Proven track record of both artistic and technical creativity with a passion for solving problems.
A proactive communicator, willing to give and receive constructive feedback.
03
POINT PLUS
Secret Level
Experience in mobile games character animation and a good understanding of platforms and engine restrictions.
Experience with Unity3D.
2D spline animation experience.
04
REQUIRED
Must Have
Portfolio demonstrating a strong level of character body mechanics.