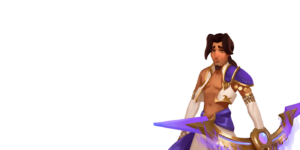 We are looking for an experienced 3D Generalist who will help us develop an art style of the game, inspire and guide us to a visual perfection of every asset. You will work closely within a small team where both your technical skills and creative vision will help shape our mobile multiplayer game.
01
MAIN RESPONSIBILITIES
How To Play
Develop an understanding of the game and it's development direction to turn the design idea into an inspiring artwork.
Modelling, Uv'ing, Texturing. Characters and Props with a skew towards characters.
Experience working on stylised assets that is demonstrated in your portfolio.
Unity basics – working with assets within Unity and scene building.
Excellent communication skills and appreciation of an iterative approach with a fast feedback loop.
Professional experience with Maya, Photoshop and Unity.
02
MVP SKILLS
Endgame
Rigging
Realtime VFX in Unity
3D Animation
03
POINT PLUS
Secret Level
Experience in mobile games development and a good understanding of platforms and engines restrictions.
04
REQUIRED
Must Have
Portfolio demonstrating an ability to visually develop an idea and render to a high level.