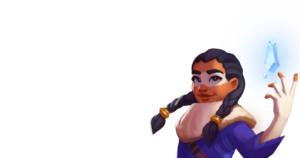 We are looking for a passionate concept artist who is dynamic and is excited about bringing designs to life for our games. You will work closely within a small team where both your technical skills and creative vision will help shape our mobile multiplayer game.
01
MAIN RESPONSIBILITIES
Main Responsibilities
Work with the Art Lead to define the look and feel of a game through concept art
Visually develop and illustrate any given combination of game assets, mainly focusing on characters and environments.
Create game related arts and "pitch" commercial materials of high quality.
Develop an understanding of the game and it's development direction to turn the design idea into an inspiring artwork.
Review internal and external artwork and provide feedback.
02
MVP SKILLS
MVP Skills
Profound knowledge and expertise of the fundamental art principles (color, composition, value/ lighting, anatomy, form, perspective).
Experience working as a concept artist on multiple games
Ability to understand and work with different art styles
Excellent communication skills and appreciation of an iterative approach with a fast feedback loop
03
POINT PLUS
Point Plus
Experience in mobile games development and a good understanding of platforms and engines restrictions
04
REQUIRED
Required
Portfolio demonstrating an ability to visually develop an idea and render to a high level