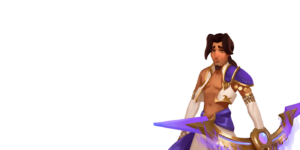 MOBILE QA ENGINEER
Full-time
We are looking for a highly skilled Senior Mobile Games Engineer to join our mobile games team from a remote location.
You will be an integral part of this talented team and game testing process, contributing not only on the test plans but also with your passion for games and how to enhance new features. You love finding improvements and strive to deliver great products and technology. You are excited about going on a journey to build a studio responsible for the best blockchain lite multiplayer games.
Your role will be responsible for defining the quality assurance and executing test plans for our mobile games. This position will work independently and collaboratively with interdisciplinary teams made up of artists, engineers, game designers, QA and production.
You will create, maintain, improve, and establish test protocols, to ensure that QA protocols and test plans are created efficiently and within given time constraints.
01
MAIN RESPONSIBILITIES
How To Play
Build from scratch the mobile QA process, establishing protocols to further optimize the QA processes.
Create bugs in task trackers (JIRA) with clear descriptions, prioritisation and reproduction steps, control and track their fixing process
Perform functional and integration testing to ascertain whether new functionality has broken other areas of the game.
Perform final testing before release, communicate issues and send reports on regular basis to Game Lead and other stakeholders.
Collaborate and communicate with multiple Game Designers, Artists, and Engineers and other members of the team about features and content, their requirements and acceptance criteria even before they are implemented to improve overall player experience and delivery quality.
Work with product teams to predict and mitigate risks and QA needs for upcoming events and sales.
Help to ensure that all content is localised and showing correctly in appropriate languages.
02
MVP SKILLS
Endgame
4+ years of experience in a games QA role.
2+ year experience testing mobile games, ideally multiplayer games.
Experience verifying and vetting bugs and managing test databases.
Knowledge of mobile app release processes (Google Play, Amazon, iTunes Connect).
Knowledge of mobile testing processes such as Apple TestFlight, Google Licensed Testers, Microsoft App Center.
Demonstrated professionalism and composure while working under and meeting tight deadlines.
Experience writing test plans (functional and compliance).
A methodical and analytical mindset
Strong English communication skills (written and verbal).
Passion for games the industry and next-generation technology across multiple platforms.
03
POINT PLUS
Secret Level
Experience managing distributed/remote QA teams.
Experience handling external test teams, such as TestCloud.
Experience in software and/or games development.
Good knowledge of Unity and experience with shipped Unity mobile projects.