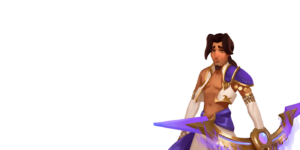 Are you a creative and self-starting UI/UX artist looking for a new challenge? Our team is seeking an experienced professional to join us in crafting engaging and intuitive interfaces for our game.

In this role you will be responsible for shaping the User Experience and User Interface of our game, with plenty of room to bring your own knowledge and vision to the table. You will have the chance to take on a variety of tasks from wireframing and prototyping all the way to creating high quality UI assets to implement into the game.

As a key member of our team, you will have the opportunity to work alongside talented designers, artists and engineers to create a seamless and enjoyable experience for our players, whilst ensuring quality and accessibility.

If you're passionate about creating great user experiences and thrive in a collaborative environment you'll fit right in. Join us in pushing the boundaries and help us create a game that players will love!

01
MAIN RESPONSIBILITIES
How To Play
Create wireframes, interactive prototypes and documentation that clearly convey ideas
Effectively communicate UX ideas and designs to the team
Work together with game designers and engineers to develop new game features and supporting game web-site features
Create UI art assets to be used inside the game (mobile-first)
Work alongside engineers and tech art to implement UI into Unity
02
MVP SKILLS
Endgame
5+ years of experience within a UI heavy role
Expert level knowledge of Figma/Adobe XD or any other design tools
Knowledge of User testing
High level proficiency in Adobe Illustrator and Photoshop, any other Adobe products are a bonus
Self-starter, happy to manage your own time and project scope
Must have a portfolio demonstrating previous UI and UX projects
03
POINT PLUS
Secret Level
Experience implementing UI into Unity
Confidence and ability to share your work for constructive feedback to the rest of the team
Familiarity with website design
High level file management skills
04
REQUIRED
Must Have
Portfolio demonstrating a variety of UI/UX work.